What's In the Meadow? – A Casual Gathering
June 5, 2022
Can you believe it's June already? We are already a week into the new month.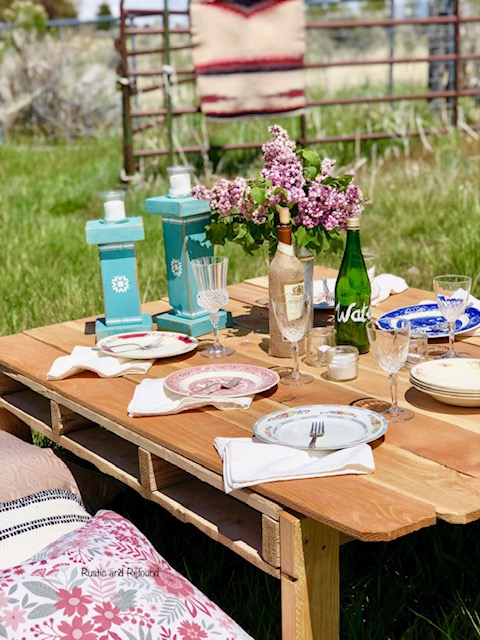 Today I am sharing all about how I created a fun Bohemian style table for a small gathering that I took to the meadow. Summer is always a great time to have an outdoor gathering. Maybe a beautiful meadow with green grasses, blooming trees, and sagebrush gives a rustic backdrop that only nature can provide.
Think outside the box!
You can create a beautiful and chic boho outdoor table setting perfect for your next brunch!
You might ask, "What is Bohemian style?" Boho style (My explanation) lends towards an unconventional lifestyle. The Bohemian style mirrors that life by combining objects, colors, and patterns from many areas of the world. If you are looking for a style that you can truly make your own, Bohemian design might be for you. Boho design embraces creative, carefree, and unconventional decor. Bohemian-style rooms tend to have certain similarities in that they are always eclectic
This Boho style table idea is not my own. The original idea came from French Country Cottage. I thought it would be fun with a few friends to have a picnic in the meadow. This became the setting for a casual style gathering.
Location, Location
Finding that perfect spot out of the way or in your own back yard is key.
A Casual Pallet Table
TABLE SETTING TIP 1 – FORGO A TYPICAL TABLE, AND INSTEAD USE A WOODEN PALLET
A gathering around a low table lends to that casual feel, Boho style.
If you don't have your own pallet, you can sometimes find them for free at construction sites, or at nurseries and local home improvement stores. Best ask first before taking. Some home improvement places will either give them to you or pallets have been available for $5 – 10.00. I cleaned my pallet by hosing it off and using a scrub brush to scrub away any dirt.
This low table is a pallet with a rustic fence plank board top. The fence boards were purchased at Home Depot.
TIP 2 – FOR SEATING, USE COZY PILLOWS.
Stacks of cozy pillows for leaning into and relaxing create some comfort and charm. Leaning back into pillows and truly relaxing with friends, laughing and catching up makes the conversation linger longer. The simplicity of a bohemian style table is what makes this such a perfect casual gathering. Rugs are perfect for creating a simple base under the table and pillows.
Tip 3 – USE MISMATCHED
I combined natural elements, patterns, texture, and color for a fun and chic style boho table setting. Using vintage mismatched plates helped set the tone for a relaxed feel. Several colors and styles of plates and flatware are perfect for an informal gathering. Think 'gathered' rather than 'put together' or 'curated'. Don't fuss over mismatched plates, flatware or stemware. Using different layers and textures make the look so charming.
TIP 4 – FRUIT AND GATHERED FLOWERS FROM THE YARD
A simple centerpiece of fruit and flowers set center stage. A simple bouquet of lilacs was cut from the yard. Fruit stacked on wood slices for extra nibbles and along with fresh baked banana bread.
The combined elements add color and texture to a table and the best part is that it typically costs you next to nothing. Large hand-made turquoise candle stands add additional height and a pop of color.
Crystal goblets for water or wine add a bit of elegance and candles are added for ambiance.
TIP 5 – THINK FUN!
The most important thing to remember when creating a beautiful bohemian style table setting and gathering is to have fun. There are no rules for making memories in a meadow full of grass. Let conversation and laughter linger.
Happy summer gatherings!