Touches of Spring Decor Added to My Ranch Style – Modern Farmhouse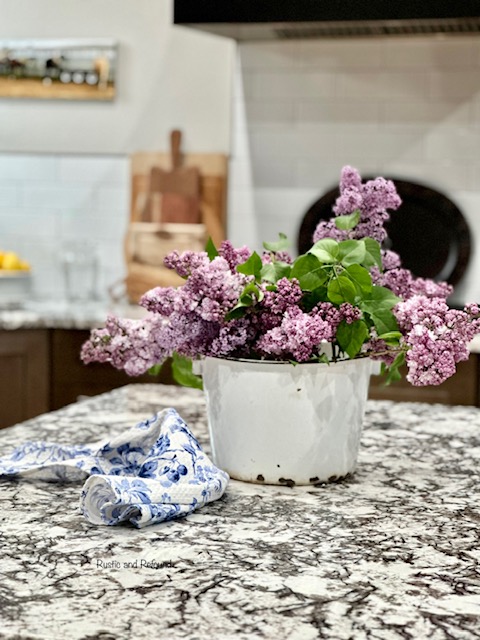 Well, hello!
It's been a minute or so since I last reached out to you. Rustic and Refound took a short working 'vacation', so to speak. The Rustic and Refound blog has been making a few updates and necessary changes. A new theme, working towards a new focus, and a few new photos. I do hope you like it.
While I've been away, spring has arrived in full force… So, a few new spring touches have been added to my home.
Spring is definitely in the air around here. We have been receiving some afternoon rains on repeat. The rains, plus a little sunshine are going to produce a lot of grass growing, flowers…and weeds!
Have you been refreshing your home for spring? Looking for quick, inexpensive ways to spruce up your home this season? Here are 10 ways to freshen up your home for Spring! Here is how I added a simple spring vibe to my home. The right accessories make a huge impact for that perfect spring feel without a lot of fuss.
My Top 10 Essential Spring Décor for a Modern Farmhouse Home
Beautiful Ironstone pitchers, breadboards, and flowers.
Dish towels. The pretty spring fabric will add depth and interest to your space. It is a very easy and budget friendly way to decorate that people often forget and can make a big impact in telling the season and showing your personality.
Copper pots and pans
Fruit
Candles in spring fragrances.
Bouquets of fresh flowers from your yard or from the grocery store.
Pot some fresh herbs for your kitchen windowsill. Fresh Rosemary, Basil, or Thyme. They smell great and can be clipped for fresh cooking.
Baskets – filled with fresh fruit or fresh veggies.
Display your favorite, pretty stack of mixing bowls or vintage crocks filled with wooden cooking utensils on your countertop.
Fill a vase full of fresh flowers. Lilacs for a true spring vibe.
One of the things that I have learned while seeking my home style is that not everything has to be perfect to be great. I have come a long way in noticing the bits that spoke the loudest to me were the ones that are not so polished and new. Not all of our home projects need to be complicated or expensive. Often, the best projects are low budget, low work, can create high impact with the most joy. I like the idea of enjoying simple moments and things in life. I hope you too add a few of these spring decor ideas to your home!
Thanks for stopping by Rustic and Refound!