Do you love the smell of cider simmering on the stove that awakens the whole house to the autumn season? Are you drawn to all things warm and cozy as you watch the leaves changing to those glorious autumn colors?
Is this you?
Me too!
The weather has shifted to those cooler, crisper autumn mornings. Nothing says autumn like the whole house smelling like apples, cinnamon, and spices. Here is a way that we can communicate the Autumn season in an authentic way.
Welcome in the autumn season to your home with a fall simmering pot.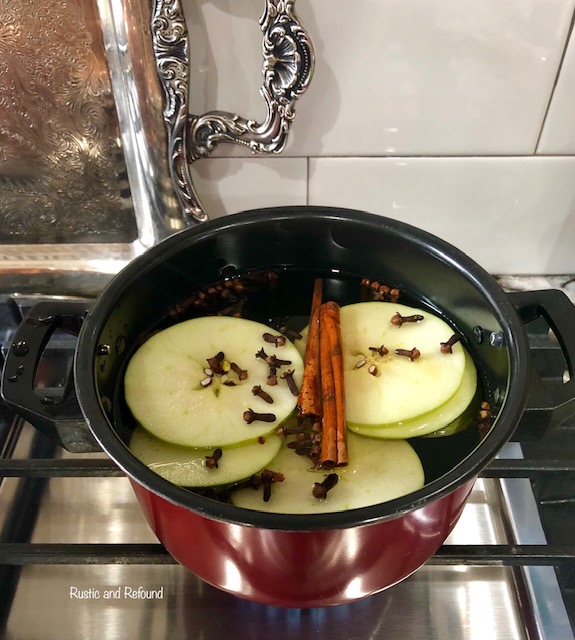 What you will need –
Apples (slices)
cinnamon sticks (2 or more depending on the size of the pot)
whole cloves
vanilla (1 -3 teaspoons)
Place your ingredients in a pot and cover with water. Bring to a rapid boil and turn down the heat to just a simmer. You can leave this on the stove all day – just add water as needed.
The size of the pot and amount of water depends on the amount of your simmering ingredients.
This can be refrigerated and stored up to 3 days.
This is a great way to naturally scent your home without the use of candles.
I used 4 simple ingredients that I had on hand to create my fall simmering pot that made my whole house smell amazing. You can add many other fresh ingredients as well.
Lemons
oranges
cranberries
ginger
mulling spices
star anise
nutmeg
bay leaves
Happy Autumn!