If you are new to me, I will let you know that I'm the girl that is all about Halloween.
A little spooky, a little creepy chic, and mostly a little elegant luxe Halloween.
So Let's Creep It Real!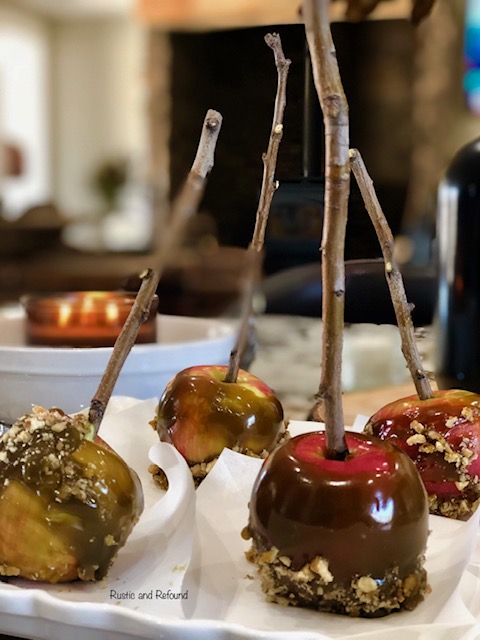 Let's Make Some Spooky – Caramel Apples
I've been wanting to create some caramel apples that had a little poisonous appeal.
So, today I'm sharing how I made my spooky caramel apples.
I think these caramel apples are well fit to feed and poison a princess. Hahaha!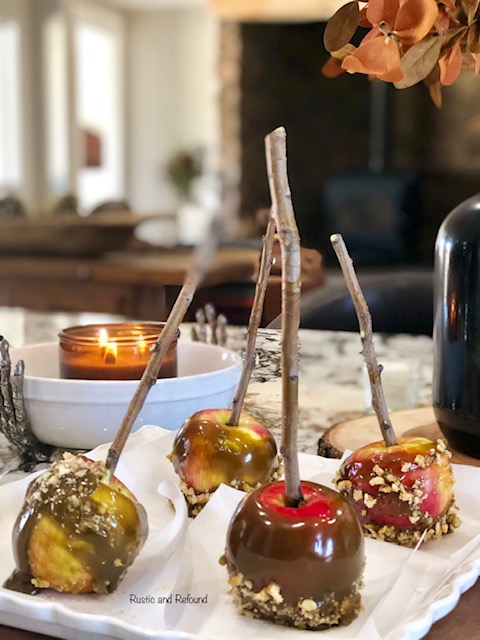 While they are dipped in caramel and not boiled from a cauldron…
they do however, look a little bewitching.
Caramel Potion – Double double, toil & trouble…
This is so simple and easy. I customized this for speed and ease.
1. I opted to use the caramel sauce in the tub.
Fire burn and bubble…
2. Put the caramel dip in the sauce pan and melt on low-medium heat stirring constantly, adding 3 generous drops of green food coloring, & 1/2 cup of water until the caramel sauce is bubbly.
I wanted to give my caramel apples that poisonous appeal – hence the green food coloring.
Eye of Newt & Toe of Frog…
3. Skewer your apples & Dip –
I used cleaned twigs cut from an apple tree for the skewers. I sharpened the ends a bit with a knife.
This made it a bit easier to push the twig into the apple.
Wool of Bat and Tongue of Dog…
Dip your skewered apple in the bubbling caramel and then roll in chopped walnuts – then place on parchment paper.
By pricking of my thumbs, something wicked this way comes.
4. Refrigerate
Refrigerate for about 10 -15 minutes to set the caramel and serve.
To keep this bewitching recipe simple I chose walnuts for my topping.
You can easily sweep together many other delicious candy toppings to add to your caramel apples.
These caramel apples are perfectly imperfect! Spooky – Caramel Apples
Still tasty and delicious – covered in gooey layers of caramel and nuts.
The only toil and trouble was boiling the caramel, adding 1/2 cup water, and about 3 generous drops of green food coloring.
Happy October folks!