Monday, September 28, 2020
Happy Autumn Folks!
Nothing like being fashionably late to the party!
The Autumn party that is.
If you see any of my stuff, you know that I'm a huge DIYer. I love creating with the rustic side of things. I love most anything rustic! Concrete can be pretty rustic. I enjoy creating centerpieces for my dining table using the inexpensive to showcase a bit of obsession I have with flowers.
So I created a cement bowl using a plastic jack-o-lantern.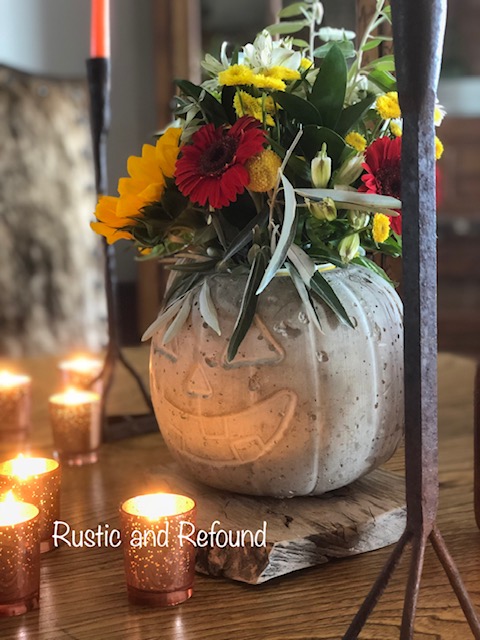 This was not my DIY idea but a borrowed idea from @toni_marianna.
You must check her out on Instagram.
This all began with a plastic jack-o-lantern candy holder from Walmart that I cut in half to create the mold. I cut the plastic pumpkin into two equal pieces, vertically from top to bottom, using yard shears and scissors. Following the steps from @toni_marianna, I taped the plastic jack-o-lantern back together on the outside. Using cooking oil, I greased the mold liberally and the plastic glass as well. I mixed my cement Quick-Crete in a small bucket, following the directions on the bag, and poured it into the plastic jack-o-lantern, about three quarters full. I then used a plastic glass to create the hollowed center.
I filled the glass with rocks to weight it down.
My pumpkin, when dry, has air pockets. Although I tapped the outside of the mold after the concrete was poured I still had the air pockets. It was recommended to use FastSet, All-Crete. You probably wouldn't get the air pockets with this type of mortar mix.
I removed the mold after the top was dry and very firm. I recommend that you grease/oil up your mold and glass very well before using. The glass in the center did not remove as planned and I had to break the glass to remove it.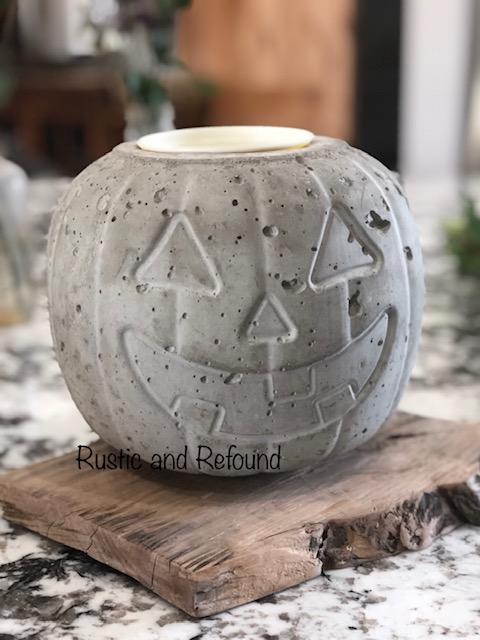 With my cement pumpkin complete and ready to decorate with… I bought some grocery store flowers. I recommend that you use a jar or vase to place in the hole to hold water. Notice that I have a plastic cup placed in the hole. Hardened cement will not hold water due to it's porous surface and it will pass through it and will leave water marks on furniture.
A Table Centerpiece
Using my grocery store flowers I styled them the best way possible for my dining table.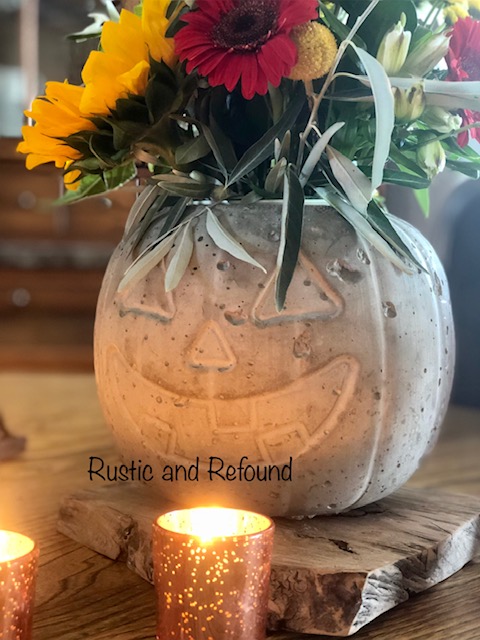 This wasn't an expensive bouquet just $12.00 in all. I picked this bouquet for the sunflower.
Sunflowers are happy flowers. They add warmth to a room. They really do bring such a warm smile to a room and even on their own- amazing.
Those orange- yellow, red, and white blooms are bright and sunny!
Just what my concrete jack needed.
Adding some candles for the ambiance…
Using my branding iron candle holders with orange candles, I added copper votives and some old found brown bottles with candles for a bit of a moody vibe.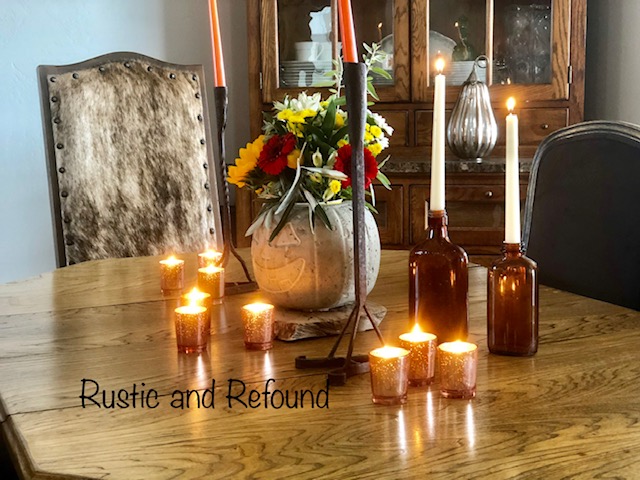 Now if these branding irons aren't a bit of rustic and refound! I wonder how much cow hide the scorched in their day???
I think it all worked well with my rustic Jack.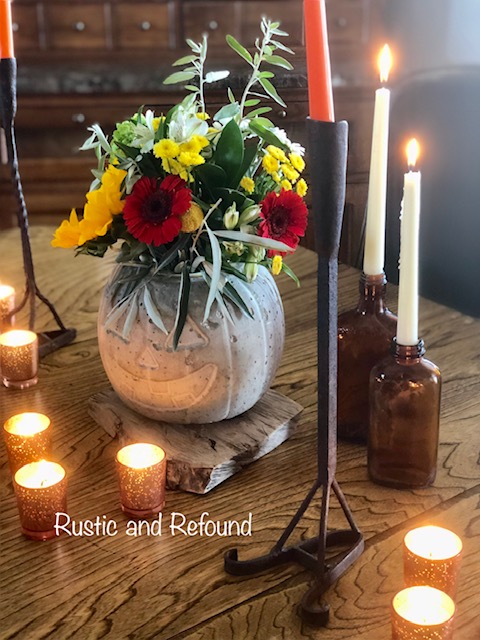 Now, this is my kind of autumn styling!
I hope you enjoyed my post. Thanks for stopping to check it out.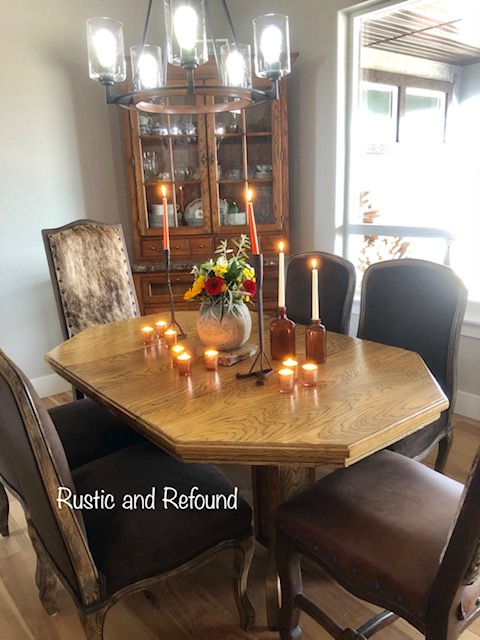 A little wild west stylin' for some wild west livin'
Happy Autumn!