Rustic, Country, Pillar Candle Holders
March 14, 2019
If you know anything about me,
you know I like to create.
Upon seeing these candle pillars at a craft fair,
I decided to not buy them,
but to make my own.
I guess you can say that this is a form of flattery
and a compliment to the real creator.
My candle pillars are not an exact copy of the pillars that I saw,
but a spin off of the original.
Painted and distressed wooden candle pillars make beautiful accents
for a country display.
They are one of those decorative pieces that can be used in any room of the home.
I love the distressed look of these.
They add texture, dimension, and color.
A bit of rustic home decor.
Use a 3 x 4 or a 4 x 4 jar candle
or a regular pillar candle.
Perfect for your country home decor.
Use the pillars with candles to fill your room
with the warm glow of flickering light.
Each candle pillar is painted and distressed
by hand for the look of a salvaged architectural piece.
Presented in several colors.
They will coordinate into most decor
and work well into your seasonal decor.
The white work well with the softer theme of Spring.
While the red work with the vibrant side of the Spring Season.
Use the pillars to give small plants,
candles and other objects a stylish lift.
Made of wood, each pillar will add a rustic touch
and dimension to your room.
Use them separately or together for more display options.
Add height to any display
and
change the look of any room instantly by decorating with
these candle pillars.
The black were incorporated into my Halloween decor
and add a more dramatic effect.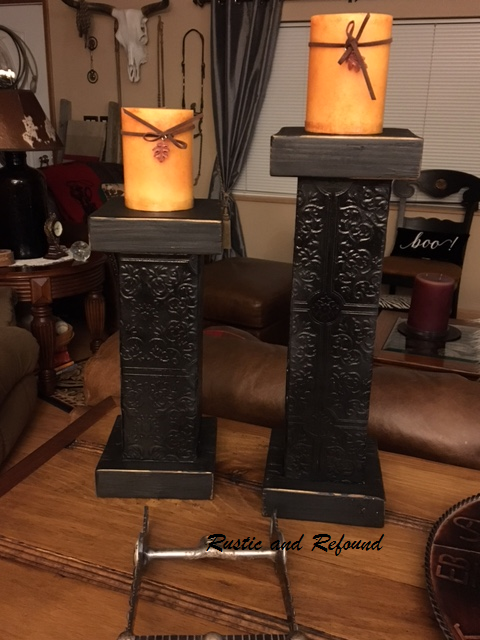 Shown below they are displayed on a country hutch.
Here's to the month of March half way over!