A Rustic Foraged Centerpiece
Friday, July 17, 2020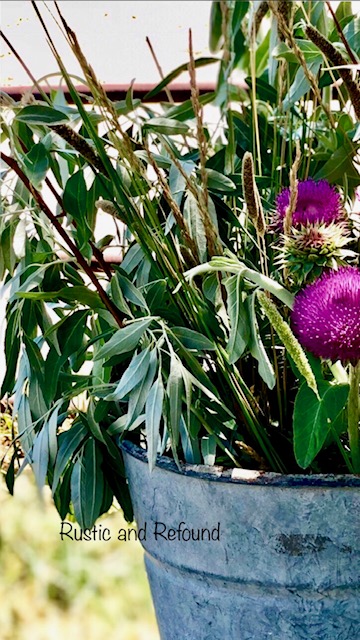 Today it is all about ideas for creating a foraged arrangement.
You know I like most things rustic, even with brambles and blooms.
I'm all about simple beauty these days.
While out on a walk around my property I ran across some blooming Scotch thistle. It is an invasive plant that I'm not really loving as it grows in a couple of spots around the edge of my property. However, Scotch thistle has the prettiest purple bloom. Scotch thistle is covered in the most unfriendly prickly leaves.
This wild and prickly plant with it's bright purple flower inspired me to create a foraged centerpiece.
Loving flowers as I do, I can't always make a run to the grocery store just for flowers.
Taking my trimmers I headed out to the "back forty."
The work began to look for something to accompany this prickly bloom.
I clipped and gathered an abundance of Russian Olive branches,
timothy grasses, and the Scotch thistle blooms.
Using the natural elements and a bucket I started to create a foraged arrangement.
A Little Shaggy, a Little Fun
They say that when it comes to foraged arrangements – anything goes. There is no specific foliage, branches, blooms etc to use- it is whatever you find and you can put together to enjoy.
However it all depends on what is in season, looks beautiful, and catches your eye.
Green Day
This arrangement is all about being "green" and using what you have on hand.
An abundance greens can be beautiful too – perfect on their own.
Today, I just added that pop of purple.
When it comes to creating an arrangement use what you find just outside your door.
Something fun too is to see how the trees and plants inspire you differently during the seasons and changes.
Sometimes it is the bare branches with nothing else that are perfect.
Other times it is flowers and trees in leaf and bloom.
Since I'm not a rule follower, I kind of like things a little more on the non-traditional side.
Anything goes- start looking outside in your yard or an open field for some greenery and flowers to make a beautiful floral arrangement.
Creating a foraged arrangement is a way to bring a little bit of nature inside without spending money on cut flowers or having to leave home.
Do you have a bush, tree, or flower growing in your yard or in a field near you?
So much fun gathering and creating ……the results are amazing!
Maybe in the future, I'll be making a DIY foraged wreath or a garland.
Thanks for stopping for a visit!
Happy Friday!