Just Jacks – A Rustic Display
Saturday, October 26, 2019
"This is the season she will make beautiful things. Not perfect things but honest things that speak to who she is and who she is called to be." 
~Morgan Harper Nichols
With all the craziness of "The great move" lately
I've needed some distractions to
keep my mind off of packing, organizing, and the cleaning.
So…
How about some cute?
How about some fun?
I started some fall decor super early because I knew at some point
all of this was going to disappear to boxes and storage.
I wanted to share my "Just Jacks" (Jack-O-Lanterns) made from posts.
Hopefully, some fall inspiration to inspire you in some small way
to decorate for Halloween.
Did I mention that Halloween was one of my favorite seasons to decorate?
I know… Halloween is not a season, but I start pretty early
with Halloween décor planning.
Maybe August.
So, I would say that it's a season around here!
 I started on the buffet in the  living room….
This buffet decor was super easy.
Using a rusty bucket (rusty metal added for another look)
with some dried branches from my yard,
rescued encyclopedias, silver creamers, a sugar bowl
and copper votives, I set up my display.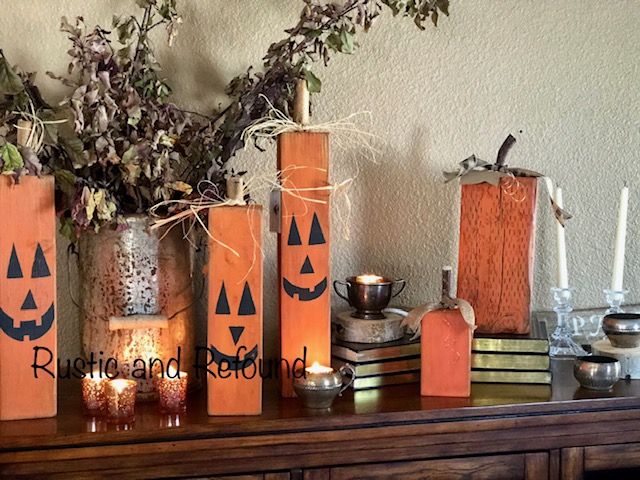 Added my primitive post pumpkins…
Wood slices and silver creamers with candles…
extra copper votives…
and a stenciled pallet wood plank.
Candles add the warmth and ambiance.
Maybe a bit of spooky ambiance?
Something about fall makes me want to decorate all the things
and try a bunch of new looks.
Is it like that for everyone?
  Either way, I'm kind of obsessed with Halloween decor.
I think this Halloween styling  is here to stay for a little while.
This is how I home!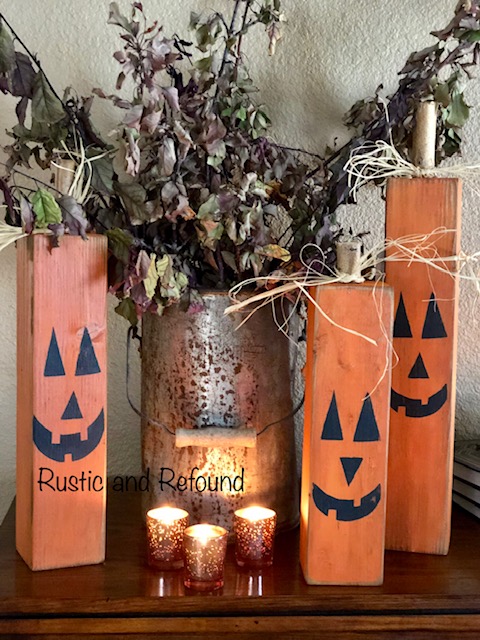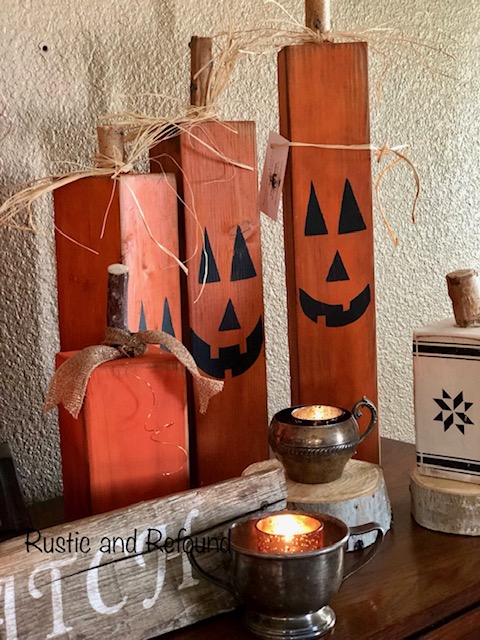 Something about all the color and texture is making me obsessed with it.
What do you think?
Let me know by commenting your thoughts.
Find me on Instagram, and chat with me.
As always THANK YOU from the bottom of my heart
for stopping by my little blog today.
It brings so much joy to be able to share my Rustic and Refound creations
and hopefully some inspiration with you.
Thanks for letting me do that.
xxoo