Friday, April 17, 2020
Happy Friday!!!
During this crazy time in the world, we ALL have a little more time to think
and feel a little less uninspired than usual.
Some days it takes me A. Lot. to be inspired or inspiring.
While taking a walk around our property, I came across this piece of lumber.
Ready to throw it on the woodstove burn pile,
I took a moment to examine this rustic piece for it's natural, worn character.
Bringing my piece of lumber into the shop, my husband looked at me and said a bit sarcastically, "What are you going to do with that?
Make a candle holder out of it?"
And… of course my mind went to thinking about putting some candles with it.
After all it is soon to be Earth Day, and the 50th Anniversary,
so I thought it should be reclaimed!
And… to demonstrate support for environmental protection.
It's crazy how you remember these things.
I am a retired educator and always touched on the need to be a steward of the land in my classroom.
So here is my sustainable, rustic, modern, reclaimed wood candleholder!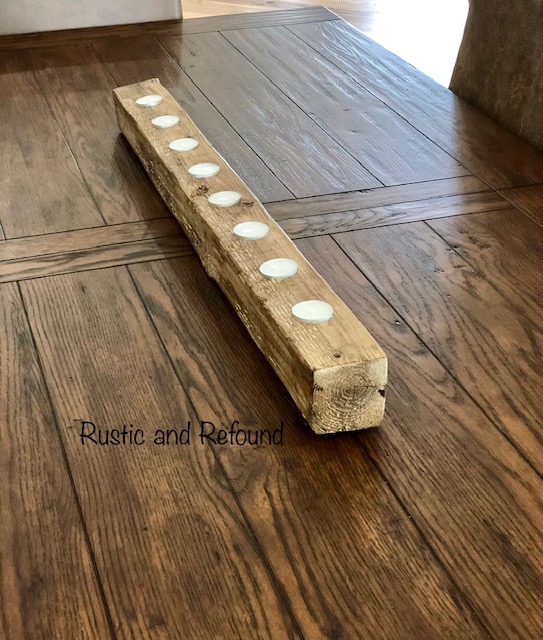 The rustic character of the wood adds and compliments a modern style.
The natural markings and color variations are visible and add to it's rich character.
Yep, it weathered with cracks, plenty of notches, knots, dings, and a bit wonky.
A rustic candleholder brings natures organic beauty to your indoor spaces.
Handcrafted from reclaimed wood.
Finished with natural stain and beeswax.
This piece exhibits it's own distinct texture and grain.
The Moore, wooden candleholder adds a welcoming centerpiece
on a coffee table, dining table console, or buffet.
Due to the natural material and handcrafted nature of the product,
each piece is unique.
No two are exactly alike.
That's the beauty of it!;)
Using my real world experience to promote authenticity
to a western way of living.
A little wild west stylin' for a little wild west livin'.
"Create whatever causes a revolution in your heart."  ~Elizabeth Gilbert
Thanks for stopping by my blog.