October 21, 2017
With fall upon us…
I like to think of making delicious autumn recipes.
…Recipes that are made from the harvesting of apples
and maybe pumpkins.
I like those recipes baking in the oven that give the best of aromas.
In search of some fall inspiration, I found…
The cutest apple pies!:)
Today I'm sharing this fun seasonal recipe.
This is apple pie…
baked in a delicious apple.
It is a simple recipe that is so easy to make.
 I came across this while browsing autumn recipes and had to try it.
I thought it was a fun treat – and had to share.
Here is what you need and how you make 'Apple Pies'.
Ingredients
3 Granny Smith apples
3 pink lady apples
1 tbsp. warm water
2 tsp. cornstarch
2 tbsp. unsalted butter
Juice from 1/2 a lemon
1 tsp. cinnamon, plus more for sprinkling
1/3 c. granulated sugar, plus more for sprinkling
1 pie crust
1 large egg beaten with 1 tbsp. milk (egg wash)
Caramel, for drizzling
Make sure you heat the caramel well before drizzling. Mine was a bit cold and did not
drizzle well!:( Ugh!
Directions
Preheat oven to 375°.
Peel and dice one green and one red apple. Slice off the tops and, using a melon baller,
hollow out the remaining apples. Core each apple making a large well in the center and
arrange apples on baking sheet or dish. Set aside.
In a small bowl, whisk together warm water and cornstarch.
In a small saucepan over medium heat, melt butter. Add diced apples, lemon juice,
cinnamon, and sugar.
Bring to a simmer and cook until apples are tender, about 5
minutes. Add in cornstarch mixture and cook 5 minutes more.
Place hollowed out apples in a baking dish and fill with cooked apple mixture.
On a piece of wax paper, roll out pie dough and cut into 4 circles. Slice each circle into
thin strips. Make a lattice top on each apple, trimming any excess.
Brush crust with egg wash and sprinkle with more cinnamon sugar.
Bake until apples
are tender and crust is golden, 28 to 30 minutes.
Drizzle with caramel and serve immediately.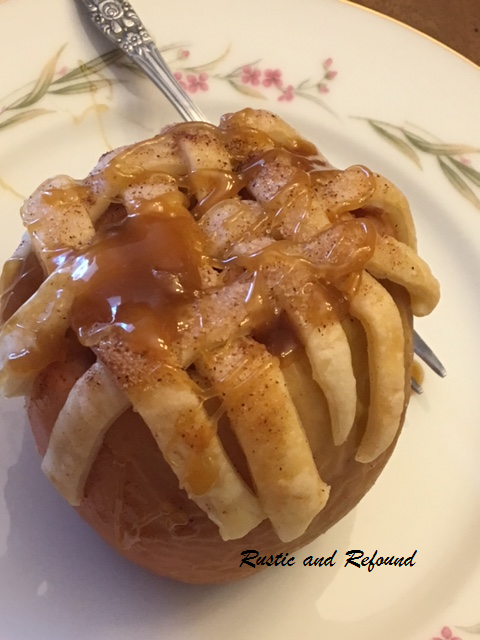 Tip: Serve with vanilla ice cream.
These are delicious and the cutest apple pies you'll see all fall.
Happy Autumn….